ABOUT US
Annapolis Boat Service is located in
Bert Jabin's Yacht Yard
on Back Creek in Annapolis. The company was established in the late 80's and is a family owned and operated business.  We have built up a reputation of providing quality yacht maintenance, repair, and installation services. The company is fully insured.
Our experienced Service Department is headed by Greg Clarence who is an ABYC Marine Master Technician certified in Marine Systems, Marine Electrics and Marine Corrosion, a qualified NMEI installer and a certified Raymarine Technician. Greg's team has been an integral part of Annapolis Boat Service for almost a decade. Steve, Ridgley and Brian are invaluable employees in their field each having their own particular skills and expertise.
Terry Clarence is experienced in all aspects of maintaining a yacht including yacht sails, thus the addition to the business of our Rolly Tasker Annapolis sail loft.  Terry is very particular and provides hands on communication and service to those customers interested in quality yacht sails at competitive prices made by one of the World's leading Offshore Cruising Sailmakers.


Working in close association with:



Rolly Tasker Sails
– One of the world's leading sailmakers for Offhore Cruising Sails, built to the highest level of durability and performance.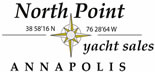 North Point Yacht Sales
- Partial commissioning of Dufour Yachts sold out of Annapolis and recommended Service Center for these Yachts.